BEECH GROVE CEMETERY
Muncie, Indiana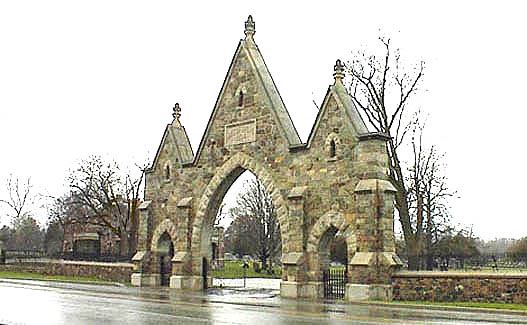 Photograph and background information submitted by Col. Carlis B. Wilson
Beech Grove Cemetery ~ Items of Historical Interest
Chartered in 1841 with one and one half acres on the bank of the White River, Beech Grove has grown to encompass over 100 acres, this makes it one of the largest cemeteries in the state of Indiana.
The Arts
Triple arched stone entry way built in 1904;
Beautiful stone office/chapel building designed in 1921 by architect Cuno Kibele;
Seventeen beautiful mausoleums;
Bronze granite and marble sculpture;
Contemporary and classic stained glass windows;
Outstanding monuments and sculputred figures dating from 1840's to the present.


A Community Resource
Beech Grove is a community resource for genealogists, historians, photographers and the general public.

Computerized records of interments are available for 42,000 burials. Tombstone readings by the Delaware County Historical Alliance of the earliest 7,200 burials are available in book form.



Source: Beech Grove Cemetery brochure.


Please contact the cemetery for more information.
1400 W. Kilgore Avenue, Muncie, IN 47304
(765) 741-1352
E-mail Tom Schnuck

Beech Grove Cemetery
Beech Grove Cemetery records are not included in the Delaware County Burial Index, they are located in Muncie Public Library's Searchable Database linked below.

Beech Grove Records Online

Return to Delaware County Cemeteries
Return to Delaware County INGenWeb